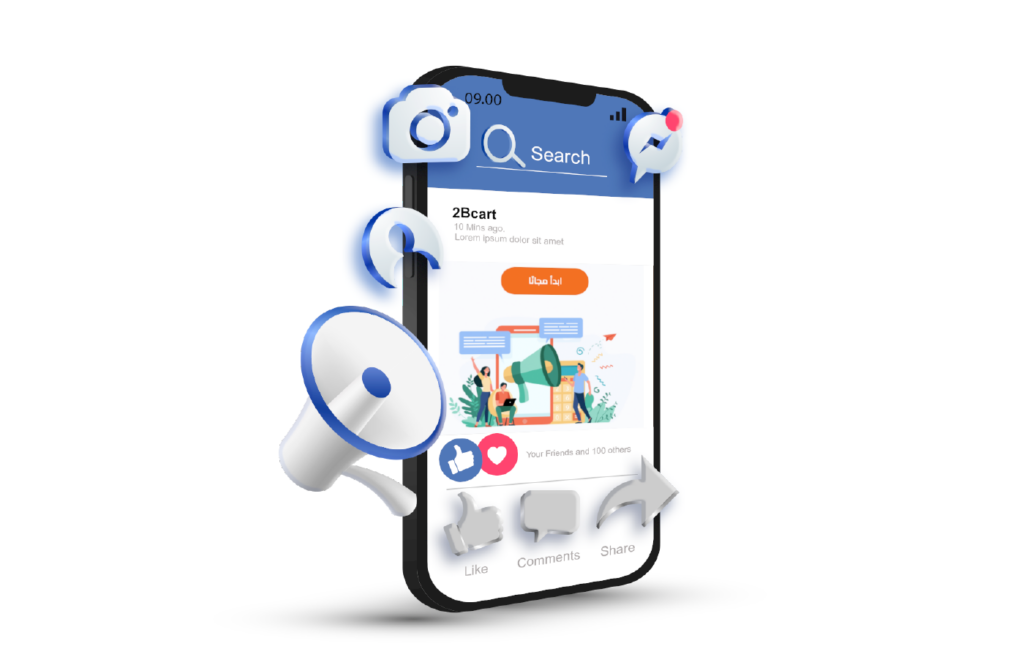 The advantages of marketing and creating Facebook ads
why is 2BCart one of the Best Digital Marketing Companies in Egypt?
It\'s a question that we\'re interested in answering in a nuanced and logical way, so we\'re going to start with a detailed definition Of 2BCart as an electronic marketing company
2BCart offers the best marketing services and website programming,
Website design services that respond to all Android and iPhone PCs and host websites at the best prices in Egypt
But the advantage that I\'m talking about in online marketing comes from our deep understanding of the most important strategies that will benefit you in your site and that is our long experience in the field.
What is digital marketing?
The promotion of products with the aid of electronic technologies which necessitates the production of materials for electronic marketing
for distribution through multiple Internet channels, including e-mail/website/blogs/social networking sites/ games/ as well as audio and video clips
What is the strategy of digital marketing companies?
The eMarketing Companies Plan is a marketing plan that helps your customers achieve e-marketing goals through select marketing channels such as Paid, Earned, and Owned Media and we will explain it in detail below.
The importance of building a digital marketing strategy :
The process of developing a digital marketing strategy is a big competitive advantage for any company that wants to engage in digital marketing. It enables the company to introduce its own brand, which helps it to know the target audience, thereby attracting new customers to the company and enhancing the status of your brand.
\"Good marketing makes the company look smart while great marketing makes the consumer feel smart\"
Top 6 digital marketing strategies:
Blogging marketing with working on SEO:
A company can market its services by blogging or by writing a description of the services they provide, but when describing your services you have to have an audience interested in them to get them.
But before you market for your service or product, you have to earn the trust and satisfaction of your audience, like helping them solve a problem, or providing them with useful information, and that\'s going to be a relationship of trust.
For example, suppose I had a website to sell cosmetic products and I wanted to market a product, and if I wrote an article about this product called, \"What is this product and how is it used?\" This marketing method is weak because it targets the product name and the search size can be small or non-existent.
To assume that a product is a kind of skin cream, we have to think about the target audience and make appropriate keywords like lightening the skin – manipulating the skin\'s coldness, and so on..
All we have to do is write a Seo-compliant article and try to help the user solve their problem.
Digital marketing via Cio, or what\'s called marketing through search engines, will work for your products or services of any kind.
What distinguishes a digital marketing strategy through Sioux is:
You get multiple visits from targeted and interested customers.
Get frequent visits to your site without even more effort.
Once you\'ve topped the search engines, you can start a new project.
YouTube Video Marketing Strategy:
YouTube is the world\'s second-largest search engine after Google, which means it\'s a good place to search for our product or service audience.
We are now in the second strategy for digital marketing and will create two e-marketing rules:
The first one is to focus on informing the public before promoting the product to them.
Number two: make it arrive in the simplest way.
The first rule was emphasized in the first strategy, and now we\'re going to talk about the second rule, which is to use easy ways to communicate with the public.
There are some people who find it boring to read articles, so when you go to videos, video marketing is a big deal.
What are the steps for e-marketing on YouTube?
Create your own YouTube channel.
Make professional videos.
Publish your videos to your channel with SEO rules in mind.
Make professional Thumbnails for your videos.
Promote your channels so you get a boost.
All you have to do is make Video Marketing videos in which you try to solve the viewer problem as a first step, either through tips or guidelines or maybe tricks and recipes… As I told you in the first paragraph what we\'re trying to get is the public\'s confidence so we try to give it free information.
Social media marketing:
No doubt we all know how many hours users spend on social media. As a marketing company, we consider ourselves better able to exploit this opportunity to market your site professionally. Whatever the quality of your project, it needs a special place in communication media and public access.
Now we\'re going to give you a foundation in electronic marketing
"I don\'t care how many likes or how many visitors, what I care about is Loyal Audience or Loyal Audience."
You may own a Facebook page for your site, and it has thousands of fans, but when you post a new article you share with them no one gets in.
Now I think you get the concept of a Loyal Audience, which also has a lot of criteria at its disposal, including:
Select the right platform for your promotion.
Have high-quality marketing content.
Build Trust and Increase Brand Awareness.
Link the website to all social media channels
Email Marketing:
Today, e-mail marketing is the best medium for digital marketing, but this strategy is difficult, because it requires getting a list of emails, and to get this list we need great visitor enemies, and to get this number we need to market.
This means that the e-mail marketing strategy needs another marketing strategy, but e-mail marketing helps us build trust with the public and tell them what\'s new.
3 tips from the best e-marketing company to strengthen your e-mail marketing strategy:
Start collecting visitor emails from day one of the blog\'s creation.
Send no more than one marketing offer per month and the rest to benefit the subscriber.
If the list of emails has more than 1,000 reactive emails, start giving it enough time.
Facebook groups and forums:
The first step you have to take is to build your profile professionally, using your profile picture with your actual information, where the profiler shows that he\'s a trusted and respected person.
Second, join as many Facebook groups as you can with your target audience, that is, the audience you want to get and direct to your blog.
third, devote one hour each day to interacting in these groups and forums, whether by publishing useful information or by answering members\' questions (without using links)
in conclusion,
Once you\'ve gained confidence, simply try attaching one link every two or three days to your interactions, but non-fraudulently. Try to give an answer; the link will only go so as to increase the details.
It\'s also recommended that you design a cover image for your profile that includes a link to your site; many will log in to your profile after you get the answer.
Be sure this strategy is one of the most successful online marketing methods, but try to stick to 3 tips:
Do not promote your product or service directly.
Don\'t bother posting your links on a permanent basis.
If someone asks you for information, send a link to your blog.
As I told you in the beginning, we\'re working on others\' problems, so that the person becomes indebted to you without feeling. In this case, you might ask him to share your blog links in his personal profile.